VIP Transfer Hire - Private Thames Boat Hire
Travel Like VIPS on the River thames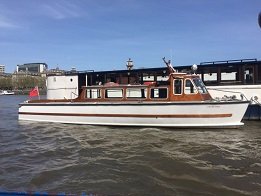 If you're looking to travel like a VIP accross the River Thames look no further. Our private hire service allows you and your guests to enjoy the bright lights of London city centre whilst leaving all the hard work up to our highly trained staff. We can arrange the catering, drinks and service, as well as music and entertainment, decorations, or anything else you may require.
Perfect for All Occasions
Our private hire on the River Thames Cruises are perfect for travelling accross London in style, simply let us know your requirements and we can suggest the perfect private London hire boat. We can accomodate up to 250 guests on our private hire cruises so are well equiped for wedding parties or conference transfers.
The finishing touches to make your event a roaring success
Our team are dedicated to making your function an occasion to remember. Working tirelessly behind the scenes, we will ensure your event runs smoothly whether it's a private corporate dinner or a wedding reception. We offer a wide range of finishing touches to add a personal feel to your event no matter what the occasion.
Thames Boat Hire Prices - Approximate
| | |
| --- | --- |
| Capacity - Seated/standing capacity will vary | Approximate Price - No VAT on Boat Hire |
| Maximum 12 persons - VIP Transfer Vessel | £600-1120 Depending on the day/times |
| Maximum 80-100 persons | £700- 1260 Depending on the day/times |
| Maximum 100- 150 persons | £900- 2000 Depending on the day/times |
| Over 150 persons - Please enquire for availability | £900- 2000 Depending on the day/times |
For more information please get in cintact with our team on info@riverthamescruises.co.uk or through the contact form below.
Lots of fun, bur would only pay with vouchers as full price would possibly leave me underwhelmed - especially after queueing for ages with crowds of tourists