River Thames Boat Hire
Boat hire on the River Thames, London
If you're looking for private boat hire in London look no further, you can hire a river Thames boat for your next private party, corporate event or special occasion, River Thames Cruises will be able to help. With years of experience in boat hire and river cruises in London, we work with many different boats along the river, and you can rely on our team to ensure your event goes without a hitch.
Our private hire service allows you and your guests to enjoy the bright lights of London city centre whilst leaving all the hard work up to our highly trained staff. We can arrange the catering, drinks and service, as well as music and entertainment, decorations, or anything else you may require.
Perfect for any occasion
We have a fleet of vessels ready for your private party and can comfortably accommodate up to 250 guests. Simply let us know your requirements and we can suggest the perfect private London hire boat for your event. From intimate sit-down silver service parties with friends, to canapes, buffets, disco cruises, or even just a transfer, we have the perfect venue for you. All of our boats are fully enclosed to keep your guests warm but also feature outside viewing areas to soak up the sights. Some of our hire boats come with sliding roofs and most are suitable for barbecues.
A range of dining options to suit you
When you hire a boat with River Thames Cruises, you can opt for one of our delicious catering menus. We have a wide variety of menu options to choose from so you're sure to find one to suit your requirements. Please see the Menu's tab to view our full range of menus.
The finishing touches to make your event a roaring success
Our team are dedicated to making your function an occasion to remember. Working tirelessly behind the scenes, we will ensure your event runs smoothly whether it's a private corporate dinner or a wedding reception. We offer a wide range of finishing touches to add a personal feel to your event no matter what the occasion.
Thames Boat Hire Prices - Approximate
| | |
| --- | --- |
| Capacity - Seated/standing capacity will vary | Approximate Price - No VAT on Boat Hire |
| Maximum 12 persons - VIP Transfer Vessel | £750-1120 Depending on the day/times |
| Maximum 80-100 persons | £750- 1560 Depending on the day/times |
| Maximum 100- 150 persons | £1560- 2500 Depending on the day/times |
| Over 150 persons - Please enquire for availability | £1800- 2800 Depending on the day/times |
Please contact us at info@riverthamescruises.co.uk for your bespoke quote, based on the date, time you would like to cruise, and pier you would like to embark/disembark from we will be able to suggest a suitable boat for your event, and provide you with a quote. Please see our Gallery for images of the variety of different vessels we are able to offer for your event.

The hire price of boats will vary between the day of the week, and the time of day you wish to hire the vessel. Most boats have a minimum hire time of 3 hours during the day, and 4 hours during the evening. For events that finish after 12pm, or go for longer than the 3 or 4 hour time slot, hire will be charged at an hourly rate.
The capacity of our boats will vary depending on the type of event you will be having, for example a seated meal there will be less of a capacity than for a disco cruise or canape event, as there are maximum numbers each vessel are able to comfortably seat.

Extras for your Thames Boat Hire
Music
DJ - £300.00 + VAT
Jazz Band - £900.00+VAT
Clients' own music Thames Boat Private Hire Surcharge £180.00 + VAT allowed on most boats
Additional Pier Stops
Pier Stops Depending on pier, £150 + VAT
Contact us for our Thames Boat Hire London
For more information regarding our Thames Boat Hire London or to book one of our vessels for your event or function then contact our office today, info@riverthamescruises.co.uk or 020 7237 9111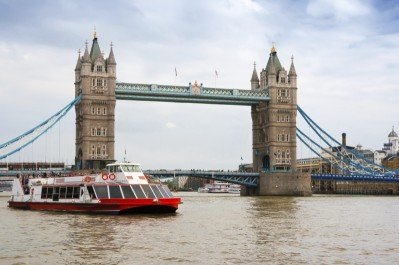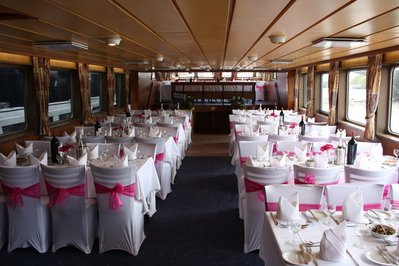 These dinner/party tours are really great! There's nothing better than floating down the Thames while you have a nice meal. Decent prices, too. Can't complain!